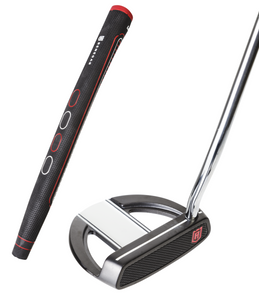 D-Line Putter
Regular price $195.00 Sale
RENEGAR GOLF INTRODUCES D-LINE PUTTER FOR 2017
Brentwood, Tenn. - Renegar Golf, the only manufacturer in golf focused solely on the short game, is launching its first putter at the 2016 PGA Show. Featuring a design that has evolved for more than 20 years through research, technology and user feedback, the D-Line Putter is built to keep every putt on the proper line and at the proper speed.
"Putting is fundamentally about two things, distance and direction," said Jack Gilbert of Renegar Golf. "A great putter should perform in both ways, and the D-Line Putter is engineered with those line and speed objectives in mind."
Available in early 2017 at RenegarGolf.com, the D-Line Putter was created with the same design philosophies as the popular Renegar RxF PrecisionForged Wedges and can be played by golfers at any skill level.
The D-Line Putter features a low-density black diamond textured TPU face with two degrees of loft and high density steel parabolic back-weighting, which produces high moment of inertia (MOI) stability, more consistent speed and better preserved direction on off-center hits. The balanced club face also keeps the club squared to the target line for both arc and straight through putting strokes. The D-Line Putter's no-hosel design also positions the center of gravity low and well behind the face center, further increasing the club head MOI.
Renegar's patented Quadra-Cut surface sole contour allows for perfect set-up from different lie angles (+/- 5 degrees) with designed-in sole relief for both take-away and forward stroke scuff errors.
The mallet club head shape and PI Alignment System frame the ball and target line perfectly, providing clear, visual static alignment aids for more consistency at address. The PI Alignment System also provides the player with both parallel and perpendicular alignment aids.
The 13-inch Lamkin Sink grip is made from a rubber compound that is 29 to 35 percent lighter than traditional rubber, allowing for a larger grip and increased traction. The added length and weight of the Sink Grip means the extra mass is placed in the grip end of the club to counter a heavier head. This counterbalanced weighting technique allows the club to feel more stable throughout the stroke.
The club handle is also slightly curved to help position the hands to take the wrist out of the stroke, and the step-less shaft is designed to be very firm to optimize control of both speed and alignment while also reducing reflective light distractions at address.
The putter has a price point of $195 and comes with a premium embroidered head cover.
Low density TPU face with high-density back weighting for high moment of inertia
No-hosel design for low center of gravity
Patented Quadra-Cut sole contour for perfect setup at many lie angles
PI Alignment System frames ball and target line with parallel and perpindicular alignment aids
13-inch Lamkin Skin grip provides better grip and stability
Curved handle and firm shaft to optimize control
Low density TPU face with high-density back
---